This Newsletter is sponsored by:
Intermec Technologies Corporation

Interested in getting the latest product information, case studies, white papers, and news from Intermec? Sign up today to receive our complimentary Consumer Goods Review e-newsletter and you will receive a copy of the "Supply Chain RFID: How It Works And Why It Pays" white paper. Your name will also be entered in a drawing to win a Nike MP3 player.

Featured Articles
The Deployment Of A Secure 'Outside-In' Enterprise Mobile Solution
As suppliers of the technology which enables the deployment of a secure end-to-end enterprise mobile solutions, Psion Teklogix and Appgate have been working jointly on a solution designed to give customers the proof they need to move their own businesses forward into the mobile age. Submitted by Psion Teklogix


NEXUS: RFID Powers Border Crossing Program
Moving traffic across country borders can be very time consuming. However, with a radio frequency identification system, members enrolled in the NEXUS program enjoy life in the fast lane. Submitted by Intermec


Mobility Is A Necessity
Mobile technology will create new sales opportunities. More importantly, however, it will eliminate the ones you are currently missing out on. Used with permission from Integrated Solutions magazine


The Missing Link In Wireless ADC — Enabling Solutions Selling For The Reseller
Manufacturing, distribution, and retail corporations of all sizes are investing very heavily in wireless automatic data capture (ADC) technology and the infrastructure to support it. In many cases, this investment can be measured in the millions of dollars, depending on the size and reach of the corporation. Submitted by eBusiness Solution Pros, Inc.


Radio Frequency Implementation Helps Medical Distribution Center Reduce Costs 6%
Implementation of a new radio frequency (RF) wireless network helped Hollister Incorporated, a major medical products manufacturer, reduce the overall costs of operating its distribution center by 6% and labor costs by 9%. Submitted by PEAK Technologies


Tablet Computing For The Masses
Tablets are not just for niche verticals. They actually aim to replace the laptops that all of your workers are currently using. Used with permission from Integrated Solutions magazine


Featured Products
S2000i Series
The S2000i series are compact, battery-powered printers that offer enhanced performance and systems integration capability. They add to the mobile applications of a wide range of portable computers and instruments.


Intermec CV60 Vehicle Mount
The CV60 vehicle mount computer excels in the most adverse environments with full PC functionality, putting wireless supply chain management right where the data is. It is one of the first rugged vehicle mount terminals available to integrate both Bluetooth technology and a wireless base station.


Falcon PT40
The new Falcon PT40 is a very compact, sleek, portable data terminal sized to fit in your shirt pocket or on a belt clip like a cell phone. Complete with integrated bar code laser and multiple memory options, the PT40 is powerful enough to handle most any batch data collection task.


Dolphin 7300 Mobile Computer
The Dolphin 7300 is a compact handheld computer that delivers performance and power for today's most demanding mobile workforce environments. Windows CE powers the Dolphin 7300 and provides application versatility and expandability.


SQL Anywhere Studio
SQL Anywhere Studio is the market-leading data management and enterprise synchronization solution for enabling the rapid development and deployment of distributed e-Business solutions. It extends the reach of a corporation's e-Business information to mobile, remote, embedded, and workgroup applications.


NETBOOK PRO Handheld Computer
NETBOOK PRO combines the virtues of a larger laptop device with the virtues of smaller PDA-type devices and enables advanced mobile CRM applications across your enterprise workforce.


Industry Events
Executive Briefing — Implementing Compliance-Ready IT

Compliant records management is here to stay. IT strategists and executives are coming to grips with the need to redesign their fundamental IT infrastructure in order to cost effectively absorb the requirements of various regulations.

Come learn about the issues, the answers, and the options for preparing your company for the new age of compliant records management. We will examine five steps to take to create a compliant-ready IT infrastructure:
Define regulatory requirements
Determine IT functionality
Start the process
Integrate compliance with the rest of the business
Minimize short- and long-term costs
These one-day sessions will occur between June 2 and July 22 at various locations throughout the United States. Click here for more information and to register.
Solutions Locator
Access the Wireless Workforce Online personalized search service. Our experienced search professionals are eager to help. Enter your request and we will locate the right solution for you. Are you looking for a quote on a product? Not sure where to start your search? Let us do the leg work.
Trade Publications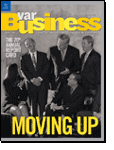 Trade Publications FREE to Qualified Professionals
There are no hidden or trial offers, and no purchase is necessary. Publications are absolutely free to those who qualify.
Browse from the extensive list of titles currently offered and be sure to check back often as we will be adding new titles over the coming weeks and months.
more info